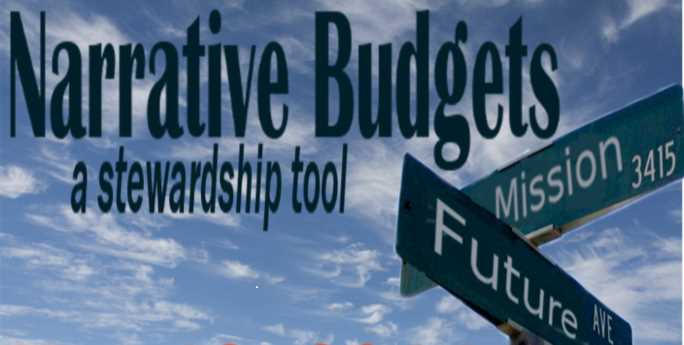 What is this "Narrative Budget" I've been hearing about?
As part of vestry each year, we are traditionally presented with a budget and an accounting of how we spent and earned money over the past year. Normally we are given a line-item summary from Excel or Quick Books, presented in the form of a spreadsheet, which captures all financial activities related to income, expenses, and investments. This is useful information, and information that must continue to be generated for the purposes of auditing, accountability, and transparency. But this isn't the best way of telling our financial story – it can be difficult to understand, it isn't particularly engaging (boring), and it only reflects one narrow perspective of who we are and what we do as members of All Saints Anglican Church in King City.
In contrast, a Narrative Budget helps to tell the full story of our congregation and translates all of what our parish spends time, effort, and money on into the language of mission and ministry. For example, instead of "here's the cost for Internet", we will see how the Internet & Website Server bills play a part in our overall mission. In more general terms, we can see how our resources contribute to God's work in our church and in the world.
Why do we need a Narrative Budget at All Saints?
The creation of a Narrative Budget is one part of a larger Stewardship & Joyful Giving Program we are embarking on at the church – one that will stretch for several years. A Narrative Budget is a first place to start; there will be more initiatives to help our congregation grow, become more engaged, and meet financial needs.
Who is involved in the creation of a Narrative Budget?
The whole of All Saints is invited to participate in the creation of its Narrative Budget. By tracking where we each spend the time and talents which God has given us, and recording these on our Giving Tree, the story of our church will unfold.
Information collected from the "leaves" on our Giving Tree, reports submitted by committees and leaders of various ministry areas, accountings from our treasurer, parish pictures, and personal testimonials from will help to form our Narrative Budget.
What are the benefits of a Narrative Budget?
A Narrative Budget tells the full story of our congregation and translates all of what our parish spends time, effort, and money on into the language of mission and ministry. It can help to express complex information about money matters, to link the financial picture with our vision for ministry and mission, to describe what we are doing with God's gifts to us, to show how people's gifts are being used and making difference (thereby sparking further generosity), and to tell the story of our congregation expressing our faith through stewardship. It brings our investments to life.
Through a narrative budget, parishioners can see that they are not giving money to the church, but through the church in order to change lives, make a difference, put word into action, and allow God to move and work through each of us.
What's wrong with the way we've always done things?
We've recently engaged with experts at the Diocese to help us get our parish better involved in all aspects of church and community life, and the message is clear that we need to make some changes in order to thrive and survive. To this end, we are renewing our focus on ministry and mission, listening to where God is leading and moving us, and educating the congregation on what it means to be a good steward, to give joyfully, and to live fully. A Narrative Budget is only one part of this larger vision for change. We are excited to see where this first step might take us!
What can I expect to see in our Narrative Budget?
Your leadership team has already started to draft this year's Narrative Budget by way of collecting information through our giving tree, soliciting reports for parish council, and beginning to write our story. As we start to look closely at what we are doing at All Saints in the areas of Worship, Christian Education, Outreach, Fellowship, and Pastoral Care, we are already seeing some amazing things come to light that are going on in our church. We can't wait to share our discoveries with the larger parish! In this year's Narrative Budget, you can expect to see a description of all that we do here at All Saints, along with a simple summary of the costs for what we've done vs the budget; we'll do this breakdown for each area of ministry we've listed above (Worship, Education, Outreach, Fellowship, Pastoral Care).
Here is an example of some of the information we might see in a Narrative Budget:
Our ministry of worship involves many people and much work, including:

– Carefully planned liturgies designed to facilitate meaningful and relevant worship & prayer
– Thoughtful insight into God's word, through sermons and presentations
– A secretary who helps prepare the weekly order of service so all might follow along
– Organization and training of volunteers who read lessons & prayers, bring forth gifts, administer communion, anoint, sing, prepare the church & altar, greet, count, and serve as sides people
– Maintenance of the building and property to ensure our warmth, safety and comfort each week
– Priest and pastoral visitors who visit and bring communion to shut-ins
– Sheet music & licensing for our wonderful choir, and hymn books for our congregation
– An organist and summer accompanist who help us to lift our voices in song
– Maintenance of the organ and other instruments
– Candles, communion wine and wafers, oils, flowers & plants, and the cleaning/polishing of linens and silver used on our altar
– Microphones & headsets, projectors & screens, and set up & maintenance of the equipment used to enhance worship and to help those struggling with hearing issues

Actual Budget
2019 2020
Hours: ## ##
Cost of ministry: $$ $$

There are many good examples of narrative budgets online – some very simple, others very slick. One of hundreds of examples is here, to give you an idea of what's possible: https://darrahmay.myportfolio.com/narrative-budget.
Submitted by Vivian Aschwanden